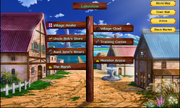 The
Town Map
is one of the main interface features in Dream World. It allows the player to move between
Shops
, the
Town Wall
, the
Arena
, and the
World map
.
It has a simple navigation. If you click one of the options, it will take you there. Every village has it's own unique look with locations. The Town Map also shows the location of the current town.
This is the place you want to visit when you get hurt or want to buy some potions. They also offer surgeries such as stitches and attribute augmentation services.
Leader AreaEdit
Each leaders govern the towns and cities of Dream World, and will be the main contact points for your main story quests. .
Each town has an armor and a weapon shop. Be sure to keep your equipment updated when you level up, or fights will become difficult. Each shop will also have a special selection that is updated every few minutes with a new item.
This is where you can train and hone your skills using your learning points. You can unlock new skills and classes when you train your weapon skills here. They also offer to train and increase your primary attributes if you have enough learning points.
Wilderness / DungeonsEdit
Beside every town and city, there are wildernesses that you can explore and gain experience, coins, and also find solutions to your quests.
Traveling to a new town is only available if you are experienced enough for that area.