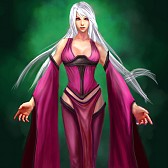 The Priestess is an Ally that you might encounter in The Thieves Hideout in Emerald City. You have the ability to name her freely at your choice.
Minor Heal (Heal, Level 13)
Divine Justice (Attack, Level 21)
Divine Grace (Heal, Level 29)
"I am a priestess of the Emerald Castle. The thieves captured me here. Please take me with you."