Rings are items you can get from side quests in the game.
You can equip only one of them at any one time.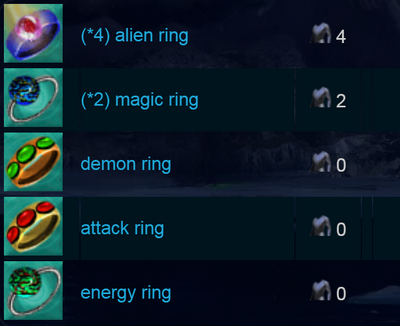 Demon Ring note, this ring can be used once per 24 hours to open Alien Portals at a cost of 2 constitution points each time.
Crystal Ring note, this ring can gain access to Isendel without have to spend coin each time at a cost of 5 energy per use. Crystal Ring can be used unlimitedly as long as you have the energy.
Only the Demon and Crystal rings are known to be used to access areas.
Arena Ring, you also need to have 10+ cards to compete in King of Duels
Notice that the Attack Ring gives +5% melee, +5% gun and +5% magic damage. The Magic Ring on the other hand grants you +6% magic damage and +6 int. Depending on your playstyle, one ring may be more preferable than the other. The +5% magic damage number does NOT show up in your magic power number, so be sure to boost the magic power number by 5% when comparing which ring is better. In general the +damage rings are better except very early in the game when you have few int points and the +6 is significant.
The Magic ring provides a larger boost to maximum skill points compared to the Skill ring if you have 95+ sword skill or 95+ gun skill or 48+ magic skill or 24+/24+/24+ skills in all 3 areas.
Equip the Magic ring before filling skill points, then switch back to a damage ring.
Equip rings that raise your maximum energy before logging off the game or refilling with gems. Once your energy is maxed, you can equip your favored ring and still keep the energy overage. This also works with the skill point rings before using dusts.
Note: Positron Ring now drops at level 97 from mystery boxes instead of level 98 as previously reported. They are available in th the black market at level 95.