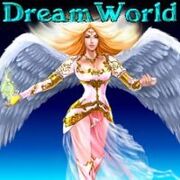 Dream World is a uniquely special role-playing game (RPG), that seeks to go beyond the normal one-click variety of other social networking RPGS. Dream World was developed by Playmage. The game was originally designed between 2002 and 2004 and has now been re-configured to work on Facebook, Kongregate, and other social networks. The game aims to give players a deeper experience of play than traditional RPGS, while at the same time focusing on making the game simple - by providing many tutorials.
In Dream World, the ultimate goal is to save Dream World from being destroyed.
---
From the official help guide:
"Dream World is a rich multiplayer universe, an online role playing game (RPG) originally developed and played by thousands of players between 2002 and 2004. It has now been redesigned and adapted to be a social game for FaceBook and other networks.
Unlike majority of RPGs you find on FaceBook and other social networks, Dream World is a much deeper experience similar to traditional RPGs, but simple designs and short tutorials that will allow any computer user to learn and play. Your main goal in the game is to save the Dream World from its ultimate destruction, and become stronger and well respected in the process."