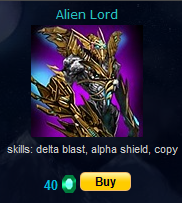 The Alien Lord ally is a strong Gem ally you can get for free by hitting the mothership though it is rare.
Skills are :
Delta Blast : 560 Attack Power
Alpha Shield : 20% Block Chance
Copy : copy 25% damage (deals 25% of your skill damage)
A friendly Alien Lord of another faction decides to join your heroic effort!
Ad blocker interference detected!
Wikia is a free-to-use site that makes money from advertising. We have a modified experience for viewers using ad blockers

Wikia is not accessible if you've made further modifications. Remove the custom ad blocker rule(s) and the page will load as expected.